Mobile App Development Company
At Solarius Solutions, we help your business to unlock the potential of web for your business with our Mobile App development services. We design and develop custom mobile applications as per the requirement of the client for both Android and iOS platforms.
Our expert team takes care of entire development cycle of mobile app development i.e. concept to development notwithstanding with the complexity and diverse needs of the mobile apps. Our expert team at Solarius Solutions, have years of experience of developing the mobile app for different categories of business. Your mobile app will be the lucrative method to grow your business. With ever increasing reach of Smartphone in today's world, it is imperative to have the mobile app for your for services and products to reach new audience. We help our client in understanding the basics of mobile app development such as understanding end-users, competitive analysis, UI design & architecture, prototyping, testing, launch, and promotion.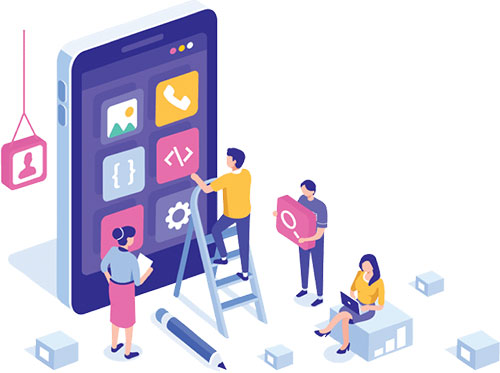 Mobile App Development Company
Strategy – It is one of the mainstays of creating a mobile app. What feature you need in your app? What market it serves? What are your audiences? We talk to you in details and understand your needs and do research based on the information collected as what kind of platform will be best suited for your business.
Analysis and Planning – In this step, we plan the functional requirement of the mobile app with you. We do detail discussion, on what kind of features will be best suited for your app and what features you want in your app and take those ideas and turns them in to actual mobile application project. We prepare a complete roadmap with timelines.
Designing – In this phase, our expert team of designers who starts with collecting the data that needs to be shown on the app and create the user journey from start to end by preparing the workflow. On the basis of that our designers create the mock-up designs of the mobile app for you to choose from and the mock-up that you choose, we start building the app on the that design.
App Development – Expert developers at Solarius Solutions always pick the correct technology stack for your mobile app. Our expert developers work on the server side, API and Application Front End to give shape to your mobile app. We always stick to the timelines so that we can deliver your app on time.
Testing – Once your mobile app is developed, our expert team of quality assurance makes sure that your app is stable and secure for the long term use. Our experts prepare the test report and on the basis of that they create the bug report. Our mobile development team starts the testing in the development phase, but the quality assurance team does the next level of testing with single agenda of finding all kinds of flaws i.e. major or minor. Our quality assurance team does that to make sure that your users get the error-free product to use. We do the rigorous functional testing of the app, performance testing of the app and test it on various devices and platforms.
Deployment – We deploy the app on the development account of the customers and train them in detail before handing over to them completely. Once the app is ready for the users to download we still closely monitor the app from backend, in case of any eventuality that may arise because, we know that whenever there is a launch, things can go sideways. So we always support our clients till the end.